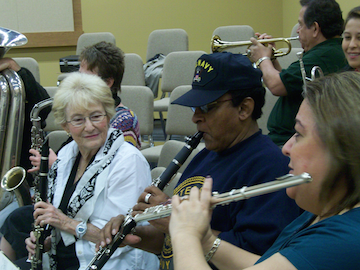 New Horizons Band at the Frost School of Music is one of over 200 bands and orchestras in the New Horizons International Music Association that provide adults with opportunities for making music. Many adults would like an opportunity to learn music in a group setting similar to what is offered in schools, but the last entry point in most cases was elementary school. Adults wishing to learn or relearn a band instrument should look no further than the New Horizons Band, where our motto is "Your best is good enough!"
Instrument Choices include flute, clarinet, saxophone, trumpet, french horn, trombone, euphonium, tuba, and percussion. Participants need to provide their own instruments.
Benefits
Playing a music instrument not only supports good mental and physical health, but also provides opportunities to develop friendships. In addition, it's also FUN!
Contact Us
For more information on New Horizons Band at the Frost School of Music, contact:
Dr. Don Coffman
frostnhb@miami.edu
305-284-6252